About us
Our philosophy
The symbolic meaning of the pension's name is meant to express our devotion to preserve rural traditions, values and culture in Transylvania. The pension and the guest house have been established to provide ideal surroundings for the visitors who want to discover this tiny part of a wonderful place called Transylvania. Warm and friendly welcome awaits the tourist, who can also get an insight in the traditional crafts as well as the still preserved folkloric traditions. We are sure that anyone who once gets the taste of this beautiful countryside, will certainly come back here.
The settlement
Transylvania is a tiny part of Europe, the home of Europe's largest ethnic minorities, the Hungarians of Romania.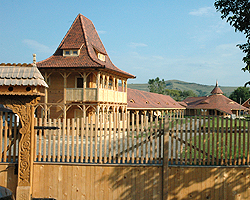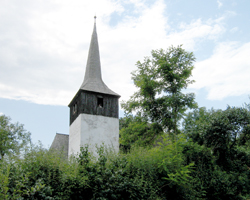 Nyárádszentlászló (Sinvasii)
is a small village situated on the banks of the river Nyárád (Niraj), about 20 kms from Marosvásárhely (Tirgu Mures), one of the most important commercial and cultural centres of the Transylvanian region of Romania. Tirgu Mures Airport is only 30 kilometres away (regular and low cost flights to several European destinations).
Beside the picturesque hillsides and natural treasures, the settlement boasts the oldest church building of Transylvania. On the top of a sloping hill the Unitarian church - preserved in its original state - looks proudly around the gentle countryside. It was consecrated in the 13th century as a homage to the great king of Hungary, St. Ladislas I. According to the legend, King Ladislas had a camp in this place during a hunting, and later he established a monastery here.
The village is inhabited by friendly Hungarian people, and the wonderful countryside attracts many tourists to walk and wander.